" Dad . . . Dad . . . .Dad!"

Meats and Main Dishes
Kabobs
Sauces
Fruits, Vegetables, Breads and Desserts


Now back by request ... Sara's Spice Mixes



If an apple a day keeps the doctor away, you'll be set for several years with these recipes!
Over 800 Mastercook Formatted Recipes to browse or download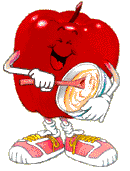 Thanks to all of you who voted in our poll.
And the Winner is . . .
Crock-Pot Recipes!
Pull out the Crock-Pot, dust it off and try some of these great recipes.
Over 1500 MasterCook formatted recipes here.



Looking for quick breakfast ideas? Whip up a batch of Muffin Mix and have it on hand for quick, warm breakfasts, snacks, and meal-fillers!

ABC Muffin Mix
"Any" Muffin Mix






Need a special dessert? Try this delicious Pecan Pie Cake, some brownies or cookies. You won't be disappointed!
Pecan Pie Cake
Microwave Ghirardelli Brownies
Oatmeal-Chocolate Morsel Cookies


What's a kitchen without a few cookbooks? Here are some of Sara's favorites with reviews and sample recipes.
Sara's Cookbook Review


Here are the results of some of our email recipe exchanges:
Bread Exchange
Cookie Exchange
Soup Exchange
Diet/Low Fat Exchange



Sara's Holiday Sites:
Valentine's Day St. Patrick's Day Easter Halloween Thanksgiving Christmas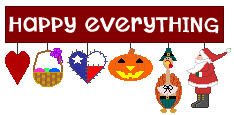 Want to give Rover a special treat today?
Check out Mali's pet recipes.
(note: you'll have to scroll down to Mali's page)



Kids Bored? Find something fun to do here!



Fun 4 Kids


Need help copying,pasting, saving, and dowloading recipes? Try the
Help Me!! Page


Don't see what you were looking for? Post a request on Sara's Kitchen
Recipe Request Message Board



Links and more links
to some of Sara's favorite recipe sites



Would you like to join our
Holiday Recipe Exchange Group?
The Holiday Recipe Exchange is a mailing list for those wishing to exchange Holiday recipes and entertaining ideas. Fun and friendly, we encourage friends to share seasonal recipes, ideas for entertaining, making meals special, making the home a happy place and tips appropriate to the time of year. Weekly themes will be announced, such as the Christmas Cookie Exchange and Thanksgiving Turkey Leftover Week, but all recipes and ideas encouraged! All recipes accepted, no special software necessary. Come join the holiday fun!











Look What We've Won! (A.K.A. our moment of
shameless self-congratulation)